Maybe I just imagined I heard this story on Radio Scotland this morning as I can find no reference to it anywhere else. It's surely too ridiculous to be true.
A dog wearing what I believe was a Celtic "coat" (can't remember how you describe these things people make their dogs wear) was set upon by what the newsreader described as "bigots" who started kicking it it and
calling it a Fenian
.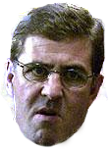 This didn't really happen, did it?
Shoot me now.